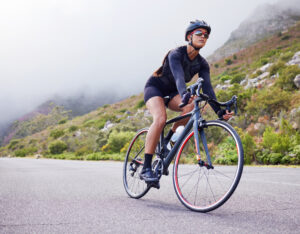 Whether you are a new or seasoned cyclist, you may be wondering what the best clothing to wear while out on a cycle is. The type of clothing you wear can depend on a number of factors, including the length of your ride and the weather.
As a cyclist, you are probably aware of the various cycling clothes that exist. Cycling clothes are made with cyclists in mind, so that's a good place to begin when searching out clothes for your rides. Here's a look at some reasons why cycling clothes should be considered:
Cycling Clothes are Made for Movement
When you're out for a ride, you need to be able to move freely. It's important to consider the type of shorts or tights you wear because your legs are doing the majority of the moving. Cycling shorts are typically made with Lycra fabric because they has a built-in stretch and won't chafe or bunch up during your ride.
Cycling Clothes Can Handle Sweat
During a long or challenging ride, the last thing you want is to sweat. While a cotton t-shirt might be comfy, it's not going to handle sweat the way you need it to. Cycling clothes are made from fabrics that will wick sweat away from your body, keeping you dry and comfortable.
Cycling Clothes Are Made to Fit
Comfort is important when riding, but so is safety. Wearing clothes that fit correctly for cycling is important. Cycling clothes are cut specifically for riding. For example, cycling shorts and jackets have longer backs so that your lower back remains covered. It's also cut in a way that your clothes won't get in the way when you are leaning over the handlebars. Cycling tights are cut in a way that your knees will be free to pedal without feeling slowed down.
Here are some other things to consider when deciding on cycling clothes:
Dressing for the Weather
When the temperature dips, you'll want to stay warm without overheating. Dressing in layers is ideal during these rides. You may want to consider the following items during chilly rides: warm cycling gloves or winter gloves, headband or warm cap, a long sleeve top, a winter jacket, and thermal socks.
When the temperature begins to rise, you'll want to lose the extra layers and thick clothing in favor of cycling shorts, a short sleeve shirt, open finger gloves, and light socks. Opt for lightweight clothes during the summer months so that any breeze will flow easily.
Consider Convenience
When you're cycling, convenience is everything. If you're going for an extended ride, you may choose to ride with a small backpack or fanny pack. During shorter rides, clothes that have pockets may be a better option. The majority of cycling jerseys have rear pockets where you can put small items. You want to get jerseys with zippered pockets to avoid losing anything.
During your ride you can carry items such as a snack (think protein or energy bar), your keys, cash, ID card, sun protection and lip balm, or a cell phone. Another benefit to these types of jerseys is that you remain aerodynamic while reaching for your items.
Choosing the right cycling clothes is important. While wearing your regular shorts and shirts might seem like a good idea, there's a lot more that goes into cycling clothes that can impact your ride overall. You want to be comfortable, of course, but when it comes to riding, safety and efficiency are high on the list as well.
Share this post: