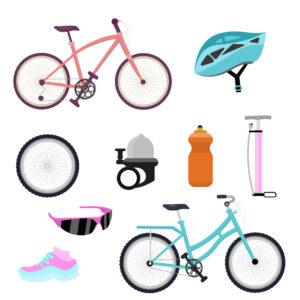 Cycling is a great sport because it not only helps you stay fit, but it also gives you a way to better experience the world around you. You can take your bike into places a car won't go, and your bike allows you to gain ground while also moving your body. Every time you leave the house for a ride, you should take the right exercises with you. Here is a look at some accessories that will make your rides a lot more enjoyable and safer:
Helmet
Your helmet is the most important accessory to take on a bike ride. It protects your head from any potential injuries in case of an accident. While buying a helmet, make sure it's of good quality and fits your head perfectly. You don't want to buy a helmet that falls off easily, this will defeat the purpose of having one! It should not be too loose or too tight, and you should wear it every time you ride. In fact, you should keep it on at all times!
Water Bottle
Staying hydrated is essential while on a bike ride. Always carry a water bottle that can be mounted on your bike, so you don't have to stop every time you need a sip. Choose a bottle holder that can hold the bottle firmly so it doesn't fall off while riding. If you can't mount your water bottle, it will be difficult to utilize it. You need to make sure the bottle is accessible for you to reach while riding so you can stay hydrated. You can also consider wearing one of those fitness water bladders that attach to your body inside a backpack-like device. You can use the water bottle on your bike as a backup for when you stop;.
Tire Repair Kit
Let's face it – a flat tire can happen at any time. How many times have your rides been derailed because you couldn't address it on the road? That is why having a bike pump and patch kit with you can save the day!. Invest in a good quality pump and patch kit and learn how to fix a flat tire yourself before heading out on your ride.
Lights
It's important to stay safe on your ride. This is why lights are essential! Even if you don't think you will be riding in the dark or in low-light conditions, you don't know if a ride will run longer than you thought. It's so good to have them with you, just in case. Not only do they help you see the road ahead, but they also make you visible to other riders and vehicles. Choose lights that are of good quality, long-lasting, and easy to install.
Bike Lock
This is essential to use for when you make stops on your rides. You'll want to always carry a bike lock with you, just in case. Even if you're just stopping for a few minutes, it's essential to lock your bike to prevent theft. Choose a lock that is of good quality and sturdy so no one can break it easily. It only takes a few seconds for someone to steak your bike. It's better to take the extra precaution to secure it with a lock.
These are some must-have accessories that every cyclist should take on a bike ride. They will help you be prepared for any situation and enjoy your bike ride to the fullest!
Share this post: