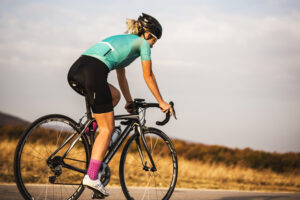 Whether you are new to cycling or someone with more experience, it is important to understand which type of bike best fits a particular rider's needs and ultimate sporting goals. When choosing a road bike, for example, riders will first want to learn more about the difference between a road bike and other bicycles, such as mountain bikes or hybrid cycles. From there, a new rider will want to explore available options, perhaps, including taking several styles for a spin to find the best fit.
Two Main Styles of Raid Bikes
When shopping for a road bike, cyclists will first want to determine if they are looking for a racing bike or an endurance bike. These are the two main styles of road bikes, and they are quite different from one another. A racing bike is designed for quick handling. A rider is seated on this type of road bike with his or her torso in a low position.
An endurance road bike, on the other hand, is made for distance. Comfort and stability are key features. When riding an endurance road bike, a cyclist sits in an upright position. Some riders own both types of bike, and rotate between them, depending on their activities, such as training for a race or going on a road trip with a friend.
Pay Attention to Your Body
In addition to basic considerations, such as cost, a rider's physique also comes into play when choosing a road bike. There are styles designed for riders who are more petite than others, as well as bikes for larger-framed bodies. It is important to not only sit on a bike, but to take it for a ride (like test driving an automobile) before buying one.
A bike might look great, but upon riding it, a rider might determine that it does not accommodate his or her needs. Most bike dealers will allow a prospective customer to test ride a road bike. If not, then it might be a good idea to shop somewhere else.
Frequency and Distance Are a Factor
Those who are in the market for a road bike will want to consider how often they will be riding and how far they will travel in an average week when determining which product best fits their needs. A bike with a sport geometry is the best choice for someone who rides several times per week and travels up to 150 total miles in that amount of time.
It is helpful to speak with an experienced rider (whether competitive or sport) to learn more about how to select the right road bike for cycling. Not only is cycling a fun way to spend time, it is a great form of exercise as well. Whether traveling in a group, alone or racing on a team, the first step to becoming a road
Share this post: